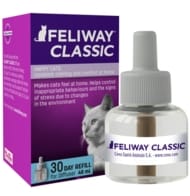 Feliway is a range of easy to use products containing a synthetic copy of natural cat pheromones. Feliway helps create a loving and comfortable home environment for your cat(s).
· UK's leading behaviour products for cats
· 92% satisfied after using Feliway
· Over 25 clinical papers supporting Feliway
By copying these natural pheromones, Feliway signals to the cat that its home environment is safe and secure.
As a result, Feliway can be used to help comfort and reassure cats while they cope with a challenging situation and help prevent or reduce the stress caused to a cat during a change in their environment.
Feliway is proven to help reduce stress related behavioural problems such as scratching and spraying. Clinical trials show a reduction in urine spraying in up to 91% of households and a reduction in scratch marking behaviours in up to 96% of households.
Behavioural problems may be caused by an underlying veterinary problem, especially in the case of urine spraying, so please speak to your vet to make sure that there is no clinical issue.
Feliway Classic Refill 
Use the refill to continue to create a loving and comfortable home where you and your cat will always be 'happy together'.
Feliway Refill requires Feliway Diffuser.
You can add Feliway Spray to enhance the diffuser.
 
 Plug and Play:
Leave the diffuser switched on continuously.

Refill should last 30 days (48mL).

It covers an area of 50-70m2

Do not plug in behind a door, curtain or behind/underneath furniture.

Replace the diffuser every 6 months
Feliway Classic is available in 2 easy to use formulations:
Feliway is supported by a satisfaction guarantee.