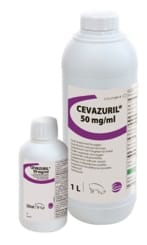 Another solution from CEVA's team of experts dedicated to helping farmers improve pig performance.
Toltrazuril: full efficacy
Toltrazuril: fast action - maintained performance
Toltrazuril: single dose - long lasting effectA 5% oral solution of toltrazuril, ensuring perfect efficacy and safety.
Control of coccidiosis using toltrazuril prevents damage to the intestinal mucosa caused by the developmental stages of Isospora suis thus preserving digestive function and maintaining optimal growth rate.
Farmer friendly - Piglet perfect !
Pack sizes appropriate for farms of all sizes with pump dispensers for easy and accurate administration.