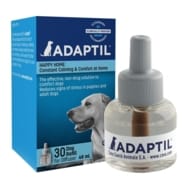 Adaptil is the synthetic copy of the natural "dog appeasing pheromone" released by the mother dog 2-3 days after giving birth. This pheromone comforts and supports her puppies, giving them the confidence to explore the outside world. This dog appeasing pheromone has been proven to have a comforting effect on both puppies and adult dogs during stressful situations and also helps support their training and socialisation.
Adaptil has been proven to help reduce stress in puppies and adult dogs, helping them deal with challenging situations such as:
Safe 
Adaptil is canine specific, odourless, non-sedative, non-systemic and can be used alongside all other types of medication.
Proven 
The efficacy of Adaptil has been demonstrated in 18 studies published in scientific journals and at veterinary conferences around the world.
Trusted 
Adaptil has been used by behaviourists, veterinary experts and welfare charities for the last 10 years.
Adaptil Refill 
Use the refill to continue making your home a comforting sweet home for your dogs.
An Adaptil Refill requires an Adaptil Diffuser.
You can also add Adaptil Spray to enhance the diffuser's effect.
 
 Plug and Play:
Leave the diffuser switched on continuously.

Refill should last 30 days 

It covers an area of 50-70m2

Do not plug in behind a door, curtain or behind/underneath furniture.

Replace the diffuser every 6 months
Adaptil is available in 4 easy to use formulations:
Adaptil is supported by a satisfaction guarantee.