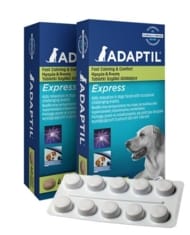 Adaptil Tablets are available in boxes of 10 or 40 tablets and can be used for short term fast acting stress relief, and be administered as little as 2 hours before the required effect. 
Adaptil Tablets have been proven to quickly help improve the signs of fear. 
The tablets can be used in anticipation of any predictable short-term occasional challenging events that can be stressful for your dogs such as:
Adaptil Tablets are a unique combination of GABA, L-trpyophan, L-theanine and B- vitamins (B1, B3, B6, B8, B12) that provide fast and temporary relief.
Proven 
The efficacy of Adaptil has been demonstrated in 18 studies published in scientific journals and at veterinary conferences around the world.
Trusted 
Adaptil has been used by behaviourists, veterinary experts and welfare charities for the last 10 years.
Adaptil is available in 4 easy to use formulations:
Adaptil is supported by a satisfaction guarantee.