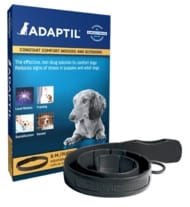 Adaptil is the synthetic copy of the natural "dog appeasing pheromone" released by the mother dog 2-3 days after giving birth. This pheromone comforts and supports her puppies, giving them the confidence to explore the outside world. This dog appeasing pheromone has been proven to have a comforting effect on both puppies and adult dogs during stressful situations and also helps support their training and socialisation.
Adaptil has been proven to help reduce stress in puppies and adult dogs, helping them deal with challenging situations such as:
Safe 
Adaptil is canine specific, odourless, non-sedative, non-systemic and can be used alongside all other types of medication.
Proven 
The efficacy of Adaptil has been demonstrated in 18 studies published in scientific journals and at veterinary conferences around the world.
Trusted 
Adaptil has been used by behaviourists, veterinary experts and welfare charities for the last 10 years.
The Adaptil Collar 
The Adaptil Collar is ideal for stressful situations both indoors and outdoors such as going into kennels, holidays, visiting the vets or out on walks. The Adaptil Collar has also been proven to provide puppies with confidence during training to help them develop into well behaved adult dogs. Just fit the pheromone infused collar snuggly around your dog's neck so the heat from your dog allows the pheromone to be released.
The puppy/small dog collar fits necks up to 37.5cm and the medium/large up to 62.5cm. Each collar lasts up to 4 weeks and can be replaced as required.
The collar is black in colour and now features an improved buckle for fitting. The Adaptil name is not only printed on the collar but also in braille.
Adaptil is available in 4 easy to use formulations:
Adaptil is supported by a satisfaction guarantee.